Map of Hyderabad- Pakistan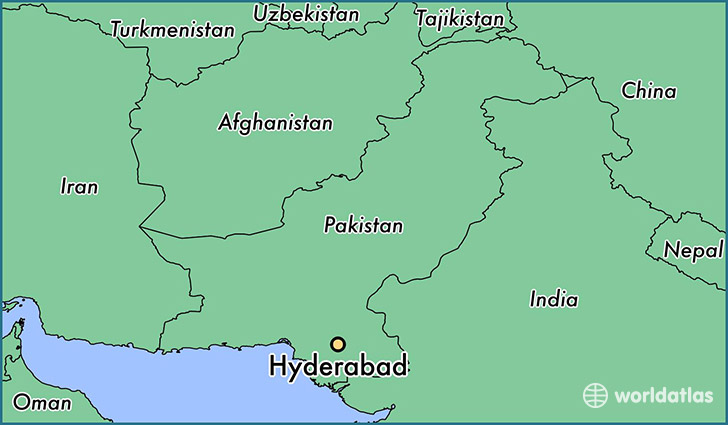 Hyderabad is a city located in the Sindh province of Pakistan. Hyderabad is the 4th largest city in Pakistan and the 2nd largest in the province of Sindh. It is located in south-east of the country.
Population: The population of the district was estimated at 3,429,000 in 2011.
Language
Most of these Urdu-speaking people sought refuge in the city from India during the independence of Pakistan, and they settled in Karachi, Hyderabad, Sukkar and other cities in Sindh. Sindhi (like Punjabi) is an Indo-European language, both are linguistically considered to be the daughter languages of Sanskrit.
Currency
The Pakistan Rupee is the currency in Pakistan (PK, PAK). The symbol for PKR can be written Rs, and ₨. The Pakistan Rupee is divided into 100 paisa.
History
In AD 711, Arab general Muhammad bin Qasim conquered Sindh, bringing South Asian societies into contact with Islam. Raja Dahir was a Hindu king who ruled over a Buddhist majority and that Chach of Alor and his kin were regarded as usurpers of the earlier Buddhist Rai Dynasty. This view is questioned by those who note the diffuse and blurred nature of Hindu and Buddhist practices in the region especially that of royalty to be patrons of both and those who believe that Chach himself may have been a Buddhist.The forces of Muhammad bin Qasim defeated Raja Dahir.
Hyderabad is a city built on three hillocks cascading over each other. Mian Ghulam Shah Kalhoro of the Kalhora Dynasty founded the city in 1768 over the ruins of Neroon Kot (Nerun or Nerun Kot meaning the place of Neroon), a small fishing village on the banks of Indus River named after its ruler Neroon. A formal concept for the city was laid out by his son, Sarfraz Khan in 1782. When the foundations were laid, the city obtained the nickname Heart of the Mehran as the ruler Mian Ghulam Shah himself was said to have fallen in love with the city. In 1768 he ordered a fort to be built on one of the three hills of Hyderabad to house and defend his people. The fort was built using fire-baked bricks, on account of which it was named Pacco Qillo (Sindhi: پڪو قلعو) meaning the strong fort.
The City has a history of Sufism. In the 18th Century Syeds from Multan migrated and settled at Tando Jahania making it a sacred place for Muslims. These Syeds came here from Uch Sharif (Bahawalpur District) via Jahanian (Khanewal District 42 km from Multan). These were the descendants of Jahaniyan Jahangasht a noted Sufi saint.
Capital of Sindh
The City of Hyderabad served as the capital of Sindh province, From 1947 to 1955, which was later dissolved and one unit was formed named West PakistanCity also served as capital during Kalhoro regime.
Geography and climate
Located at 25.367 °N latitude and 68.367 °E longitude with an elevation of 13 metres (43 ft), Hyderabad is located on the east bank of the Indus River and is roughly 150 kilometres (93 mi) away from Karachi, the provincial capital. Two of Pakistan's largest highways, the Indus Highway and the National Highway join at Hyderabad. Several towns surrounding the city include Kotri at 6.7 kilometres (4.2 mi), Jamshoro at 8.1 kilometres (5.0 mi), Hattri at 5.0 kilometres (3.1 mi) and Husri at 7.5 kilometres (4.7 mi).
Hyderabad has a hot desert climate (Köppen BWh), with warm conditions year-round. The period from mid-April to late June (before the onset of the monsoon) is the hottest of the year, with highs peaking in May at 41.4 °C (106.5 °F). During this time, winds that blow usually bring along clouds of dust, and people prefer staying indoors in the daytime, while the breeze that flows at night is more pleasant. Winters are warm, with highs around 25 °C (77 °F), though lows can often drop below 10 °C (50 °F) at night. The highest temperature of 48.5 °C (119 °F) was recorded on 7 June 1991, while the lowest temperature of 1 °C (34 °F) was recorded on 8 February 2012.
In recent years, Hyderabad has seen great downpours. In February 2003, Hyderabad received 105 millimetres (4.13 in) of rain in 12 hours, leaving many dead.[13][14] The years of 2006 and 2007 saw close contenders to this record rain with death tolls estimated in the hundreds. The highest single-day rain total of 250.7 millimetres (9.87 in) was recorded on 12 September 1962, while the wettest month was September 1962, at 286 millimetres (11.26 in).
Economy
Hyderabad is an important commercial centre where industries includes: textiles, sugar, cement, manufacturing of mirror, soap, ice, paper, pottery, plastics, tanneries, hosiery mills and film. There are hide tanneries and sawmills. Handicraft industries, including silver and gold work, lacquer ware, ornamented silks, and embroidered leather saddles, are also well established. Hyderabad produces almost all of the ornamental glass bangles in Pakistan. Hyderabad is a major commercial centre for the agricultural produce of the surrounding area, including millet, rice, wheat, cotton, and fruit.